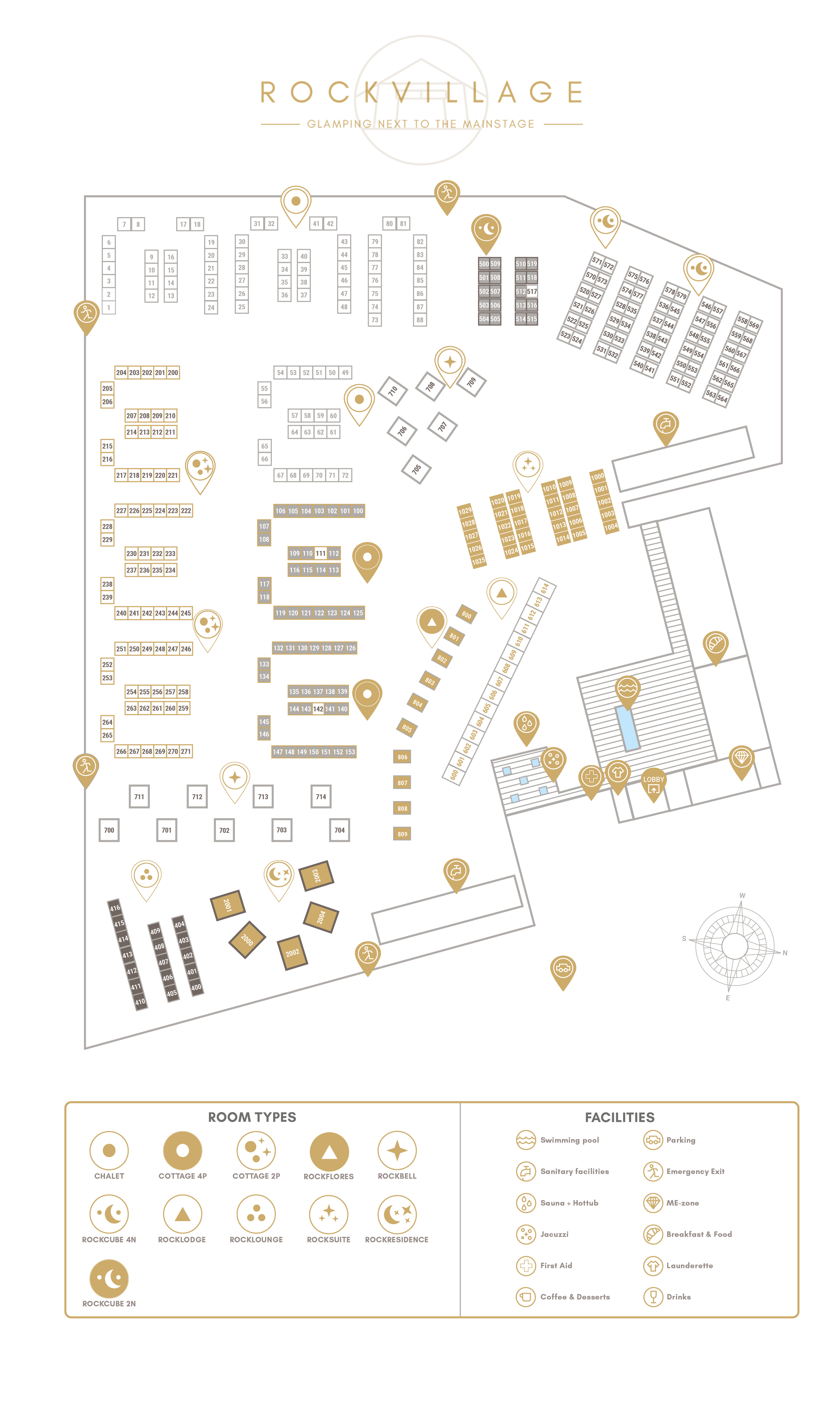 Rockvillage 2022
30/06/2022 - 04/07/2022
Rockvillage, dat is overnachten in stijl en genieten van puur en luxueus glamping tijdens Rock Werchter, van 30 juni tot en met 3 juli 2022.

Al meer dan 10 jaar bezorgt Rockvillage festivalgangers een verblijf in alle comfort. Op onze boetiek camping slaap je onder de sterren, met een tikkeltje extra of nog meer.

Voor de komende editie van het rockfestival openen we de deuren van donderdag 30 juni tot en met maandag 4 juli 2022. Kies de formule en de accommodatie die bij jou past, wij zorgen voor de rest.

Bij elke verblijfsformule start je de dag met een luxueus ontbijtbuffet en welk kamertype je ook kiest, je geniet van alle extra's op ons resort. Neem een verfrissende duik in het zwembad of relax in de jacuzzi, ga voor de ultieme festivallook naar onze kapper en make-up, tank wat extra energie tijdens een van de sportsessies, …

Opwarmen voor of nagenieten van de festivaldag doe je op het deels overdekt Rockvillage terras. Bestel jouw favoriete drankje aan onze bar en proef zeker een van de suggesties van de chef, verkrijgbaar aan onze food bar.

Je vindt ons op een kwartier stappen van het festivalterrein.
 
Rockvillage, spending the night in style during Rock Werchter festival, enjoying pure and luxurious glamping, from June 30th until July 4th 2022.

For more than 10 years now Rockvillage offers festival goers a comfortable stay. At our boutique campsite you sleep under the stars, with that little bit extra or even more.

We are opening our doors for the festival's next edition from Thursday June 30th till Monday July 4th 2022. Choose the package and accommodation that suits you and we will take care of the rest.

With each package you start the day with a luxury breakfast buffet and whatever type of accommodation you choose, you can enjoy all facilities on our resort. Take a refreshing dip in the pool or relax in the jacuzzi, visit our hairdresser and make-up artist for the ultimate festival look, refuel during one of the sport sessions, …

Get ready for a brilliant day or continue to enjoy your festival feel on the partially covered Rockvillage terrace. Order your favourite drink from the bar and make sure you try some of the chef's suggestions, available from our food bar.

Rockvillage is only a 15 minute walk from the festival grounds.